San Juan del Sur is located on the Pacific Coast of Nicaragua, about 40 minutes from the border of Costa Rica.  It's a hippie-surf-mecca adorned with colorful buildings and a sprawling bay.  While the addition of several upscale eco-lodges has put SJDS on the map, the city's relaxed atmosphere and cool vibe still caters to backpackers and surfers.  It's difficult to walk down a street in SJDS's relatively small downtown area without passing a surf shop.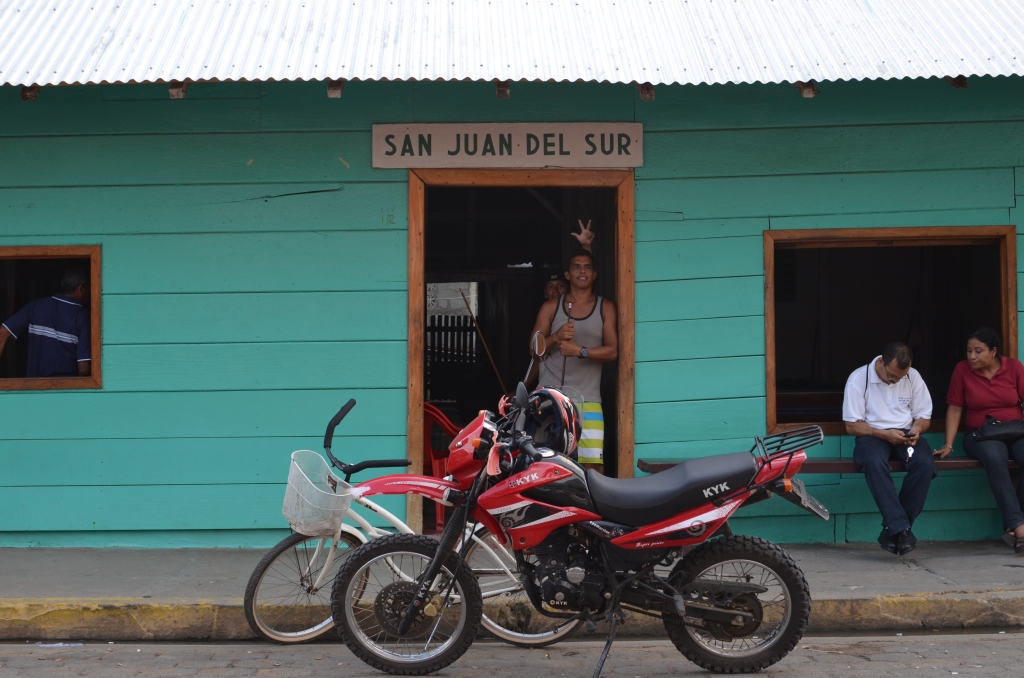 Bienvenidos a San Juan del Sur!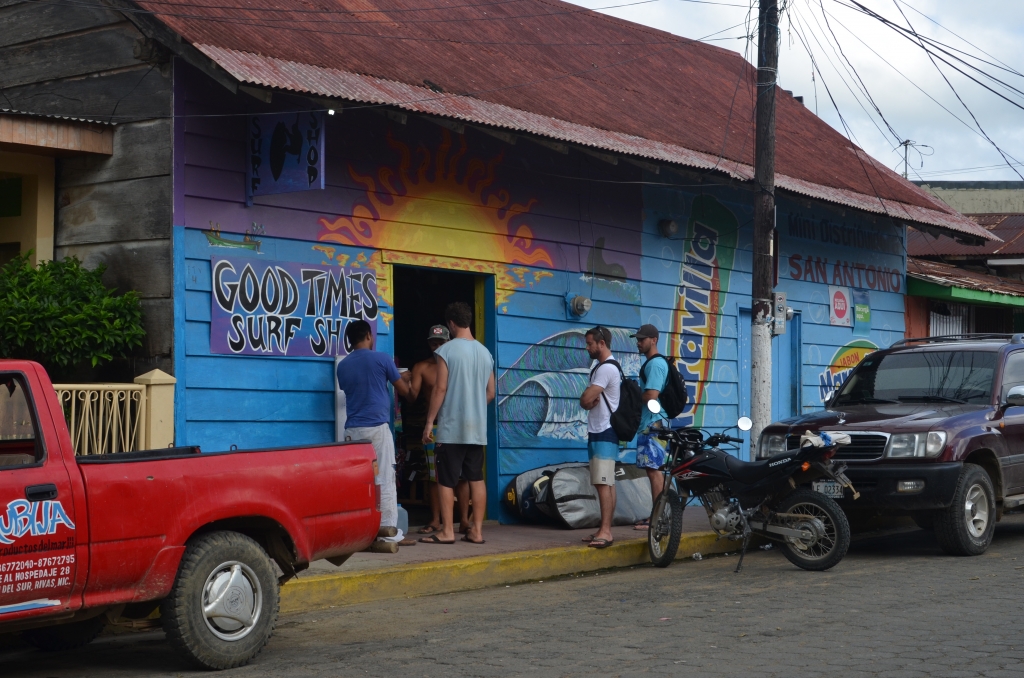 If you're interested in surfing, I suggest visiting Good Times Surf Shop, just a block from the bay. The prices are reasonable and the staff are honest – they'll let you know if the surf is good or bad at a particular beach, and will tailor trips to meet your needs.  I went on two surf trips with Good Times to Playa Maderas and Playa Hermosa, and learned to surf for the first time.  I pulled several muscles and came home covered in bruises, but I made it up on the board!
PLAYA MADERAS
Located just north of SJDS bay, Playa Maderas has some of the best and most consistent waves in SJDS.  There's something for everyone though – beautiful scenery, sand, and 3 beach bars serving alcohol, seafood and traditional Nicaraguan dishes.  They even have wifi.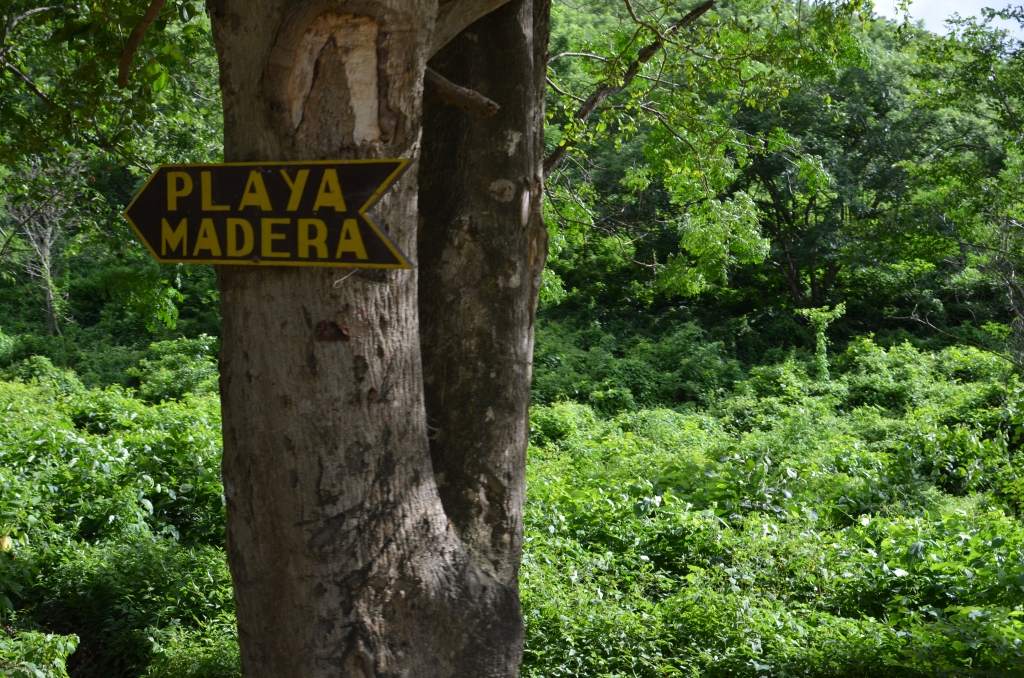 The ride to Playa Maderas is about 20 minutes.  I sat in the back of a pickup truck and was able to take in all of the beautiful scenery.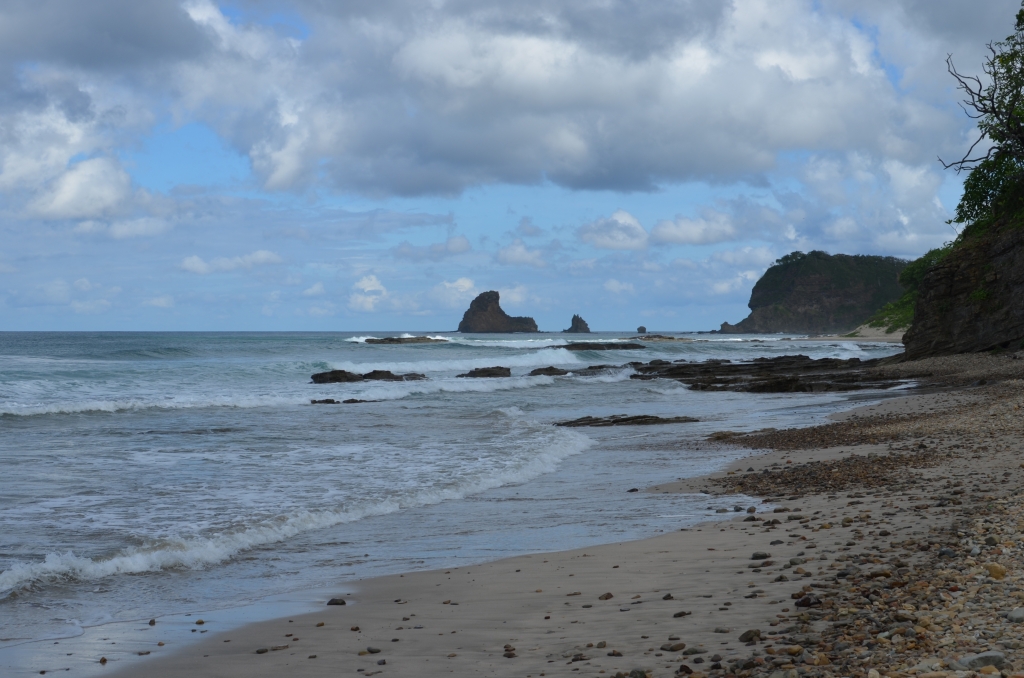 Playa Maderas.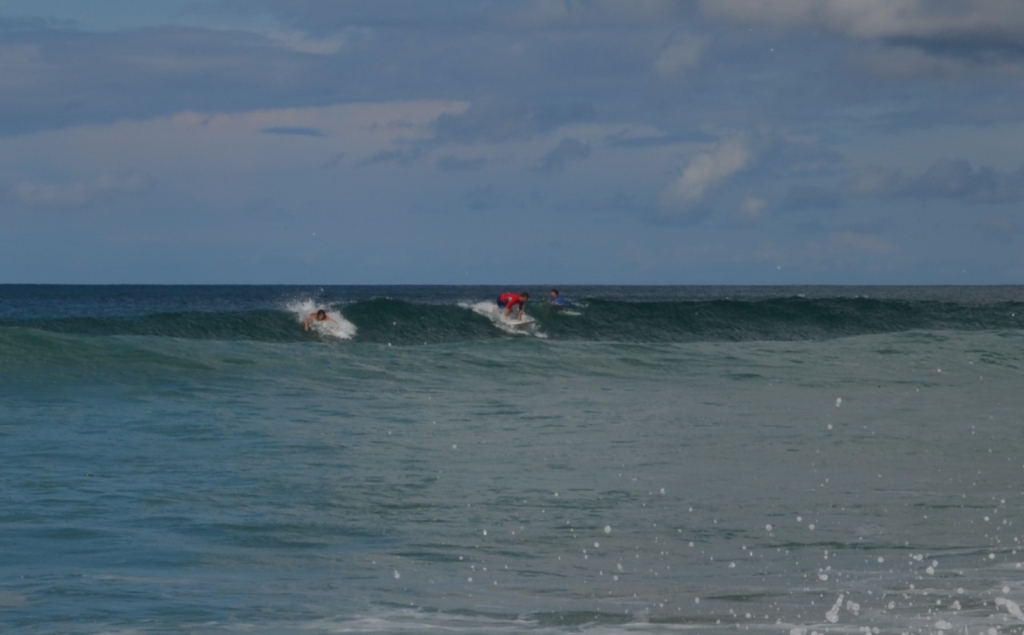 Surfers at Playa Maderas.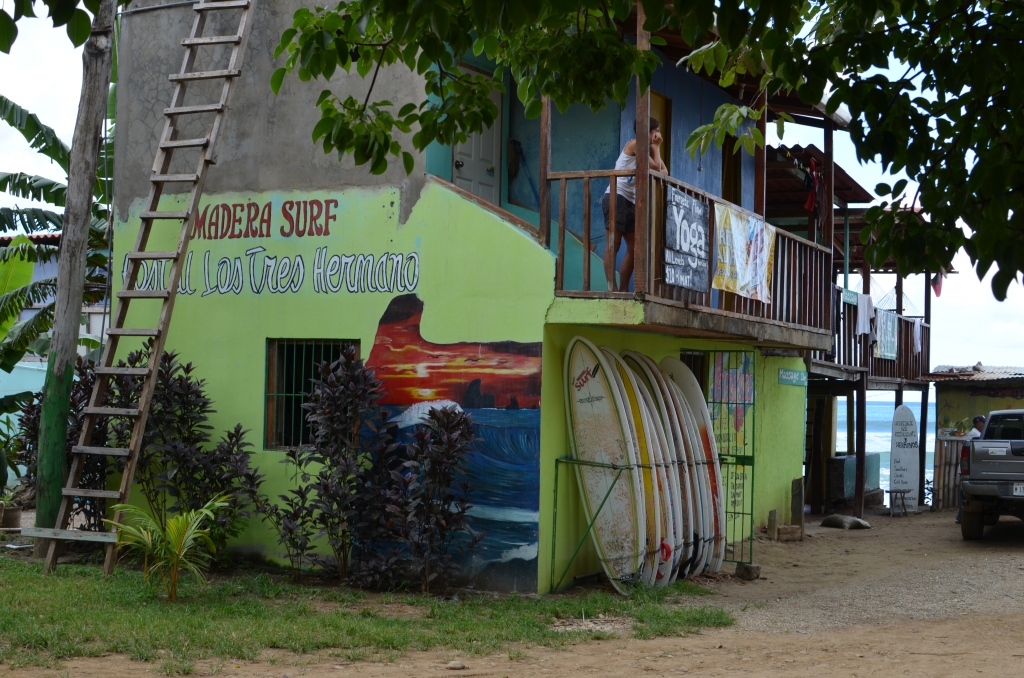 You can rent surfboards at Playa Maderas, though it's easier to go with a group from San Juan del Sur if you're staying by the bay.  I can't say enough positive things about Good Times Surf Shop.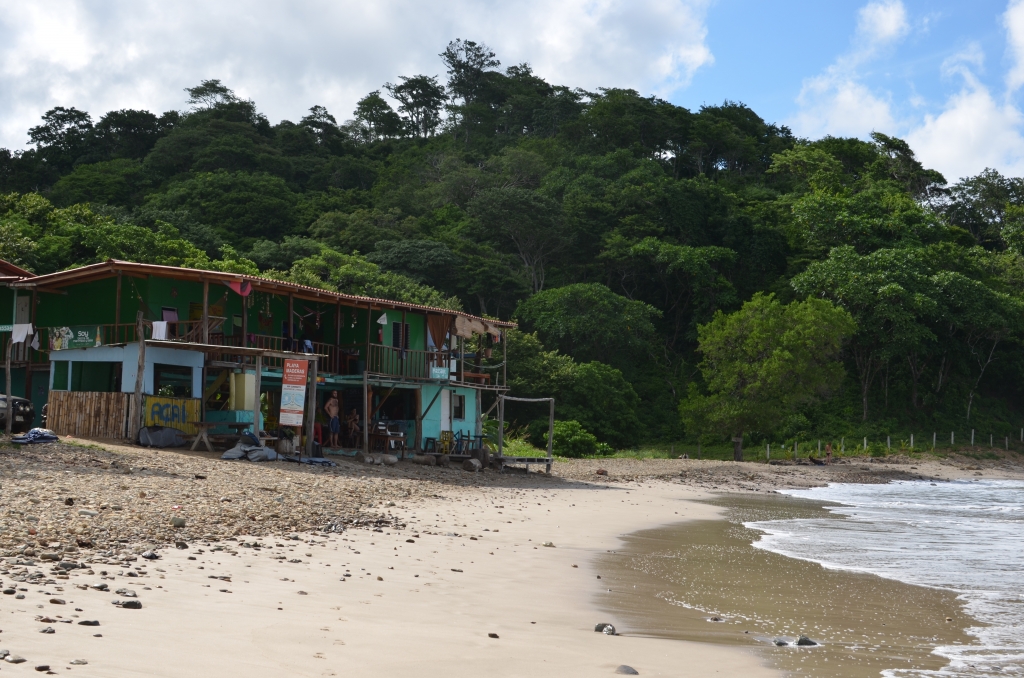 One of the beach bars at Playa Maderas.
PLAYA HERMOSA
Playa Hermosa is another popular SJDS beach.  Located between SJDS and the border of Costa Rica, this beach caters to surfers and beach bunnies alike.  The waves aren't as consistent and you may need to wait for high tide to surf, but the beach is a welcoming respite from the hustle of SJDS.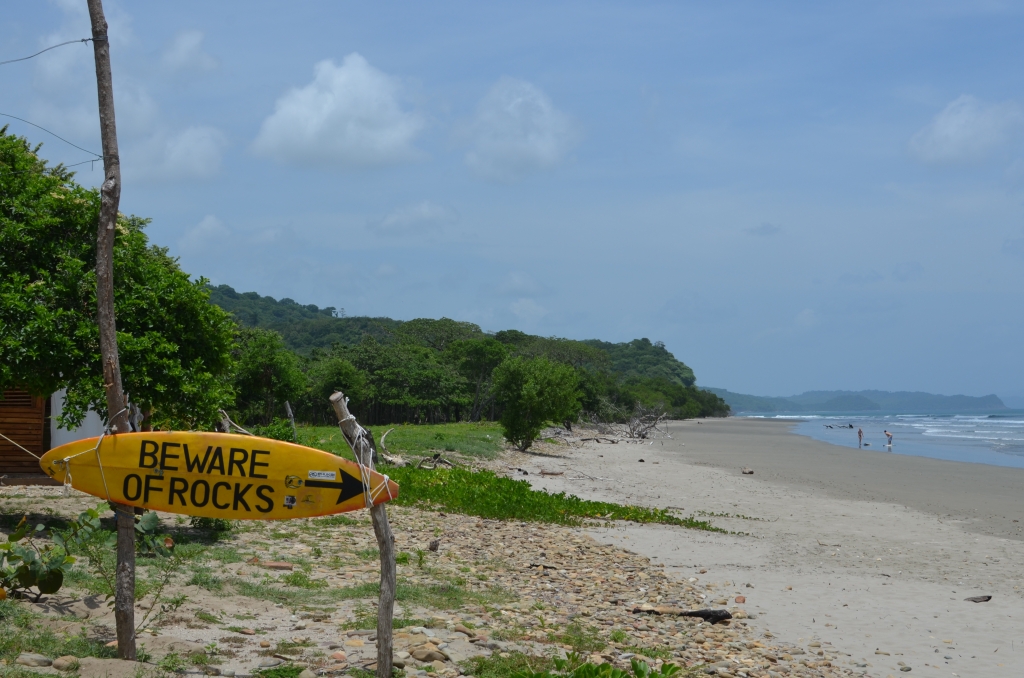 Make sure you surf far enough away from the rocks.  You'll have enough bruises from falling off your board!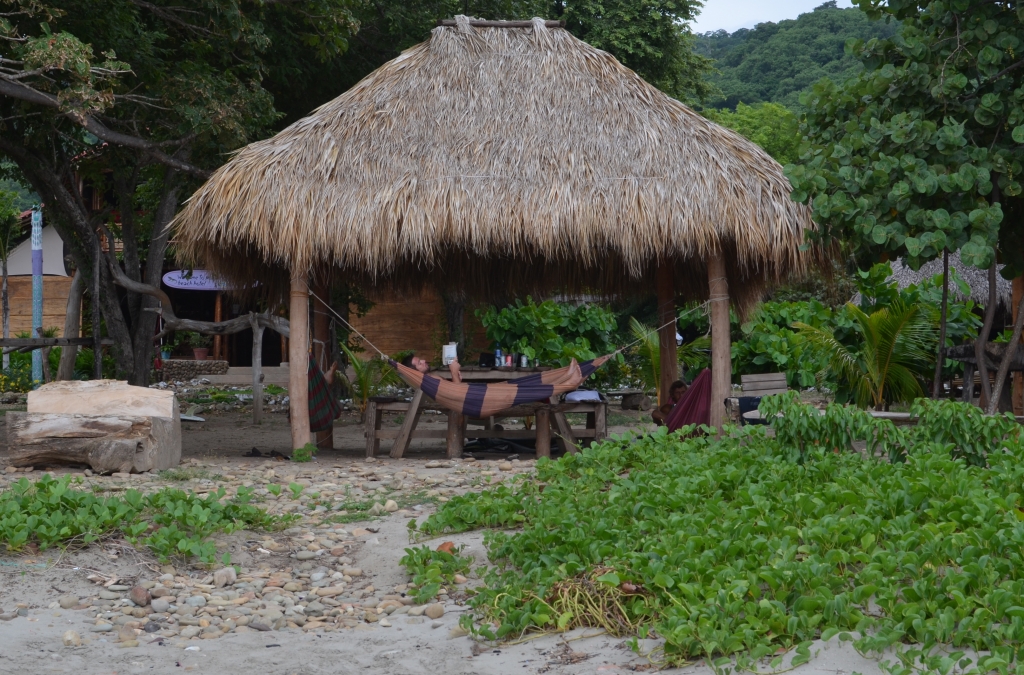 Relax with a book in one of the many hammocks.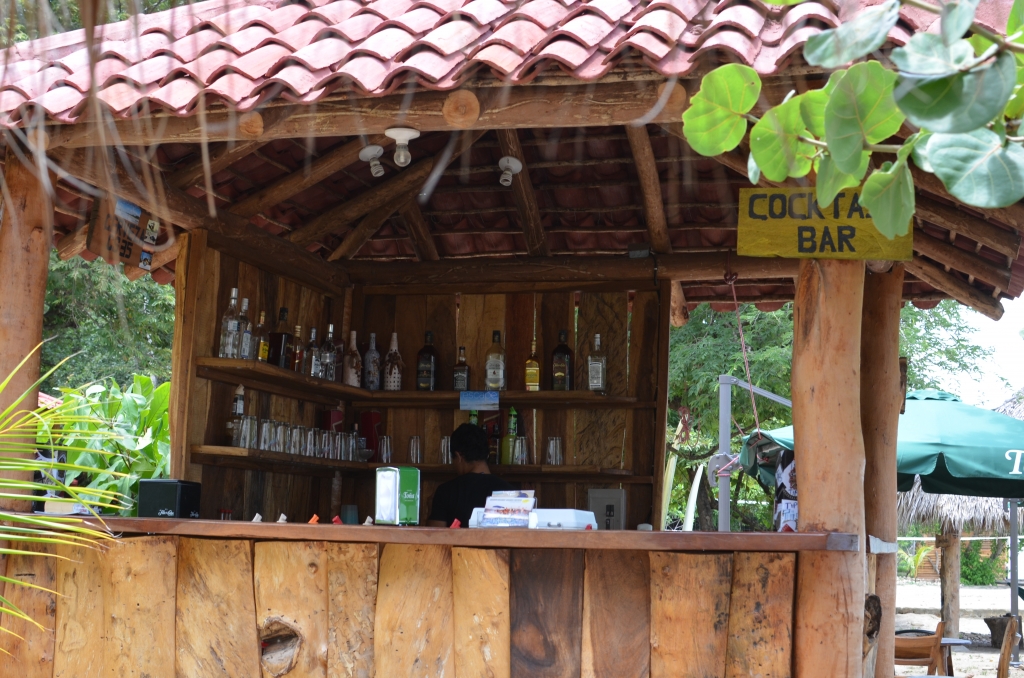 Cocktail bar at Playa Hermosa.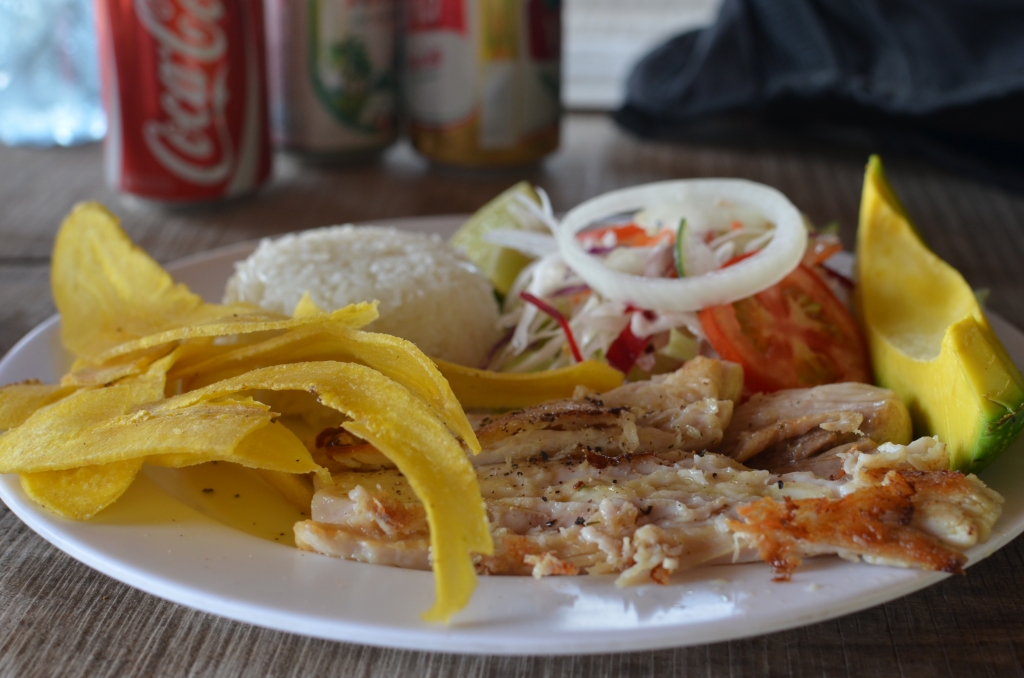 Dorado, a popular fish in Nicaragua, with plantains and rice.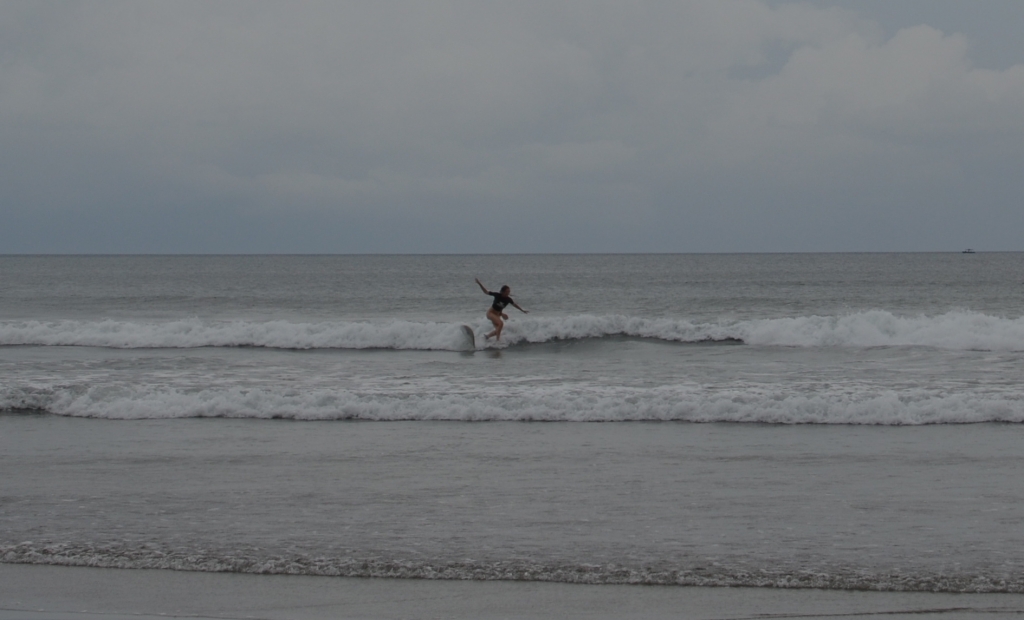 Up on the board on my first day!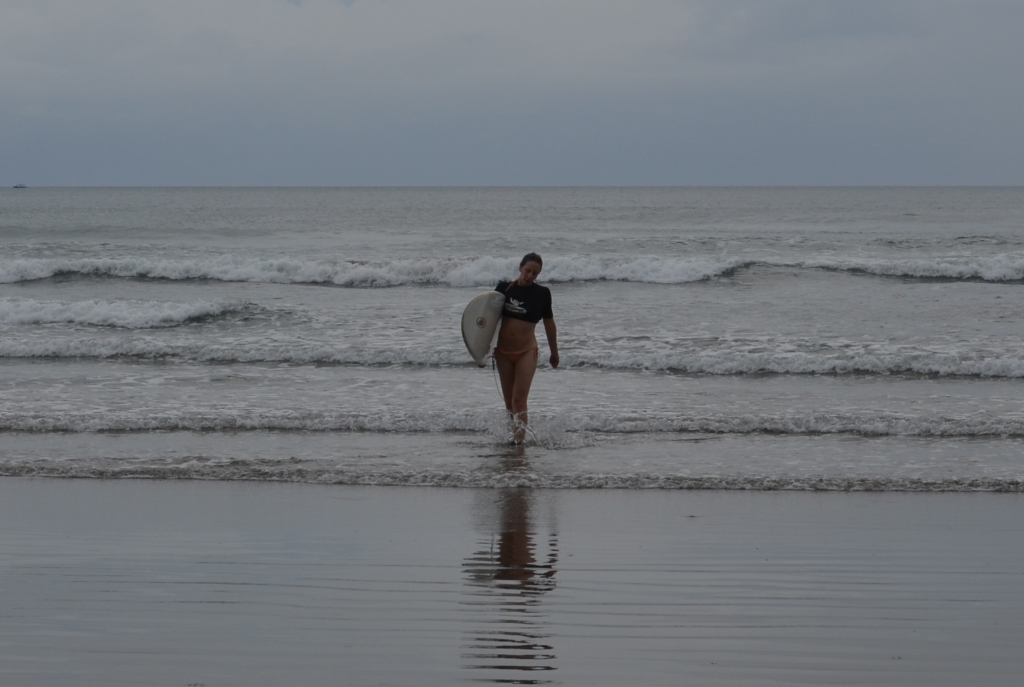 WHAT TO DO IF YOU DON'T SURF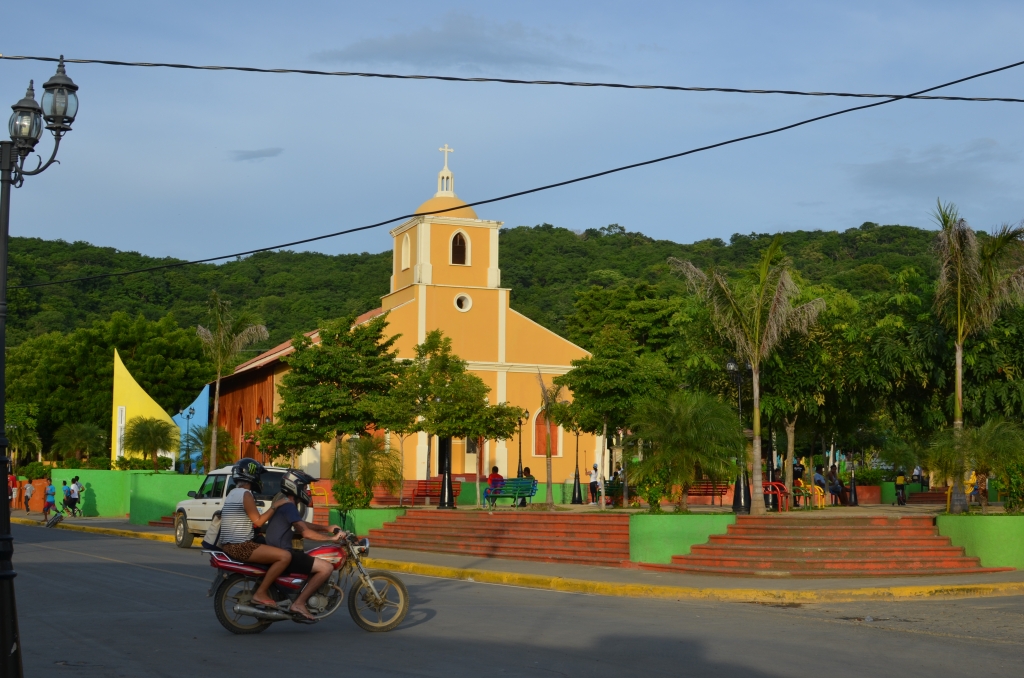 Explore the colorful town.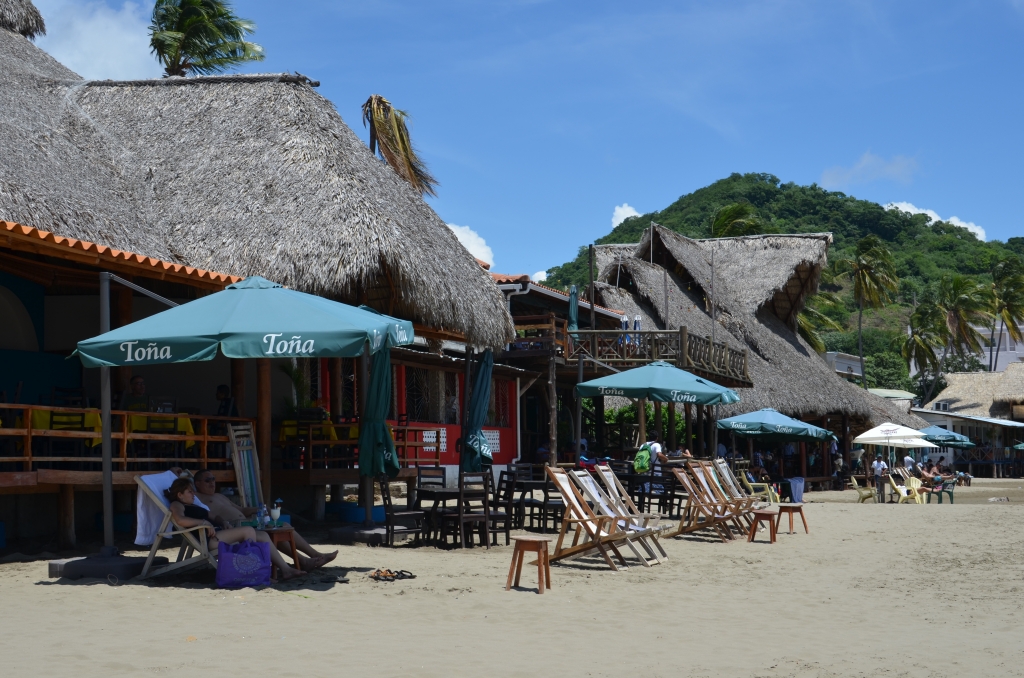 Head to one of the many beach bars.  By day, you can sit outside and relax.  By night, you can party at Henry's Iguana.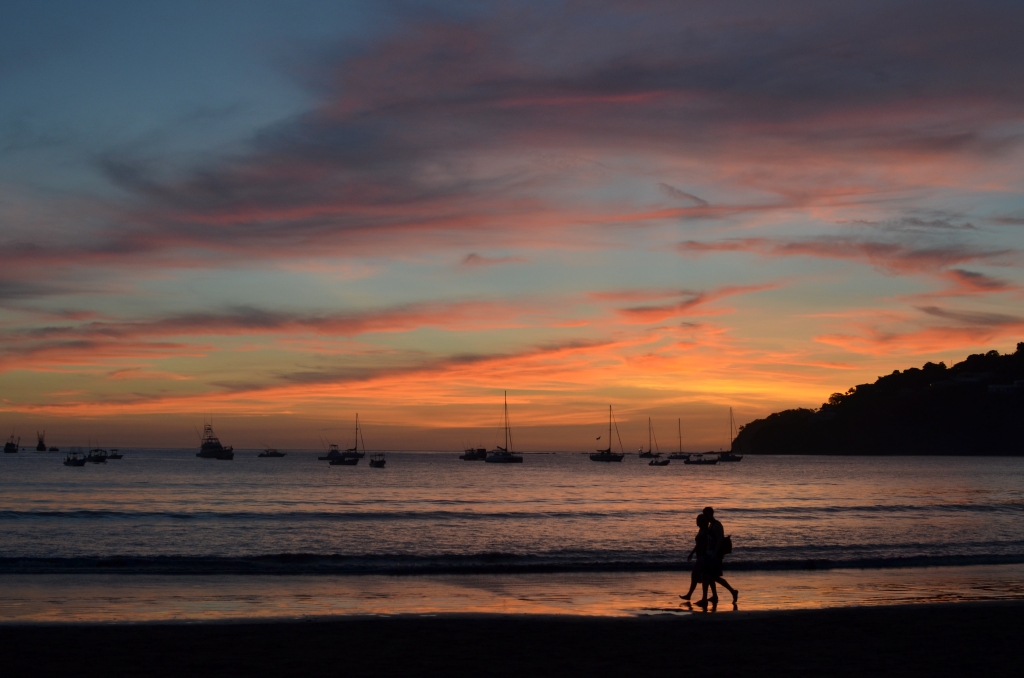 Watch the sun set.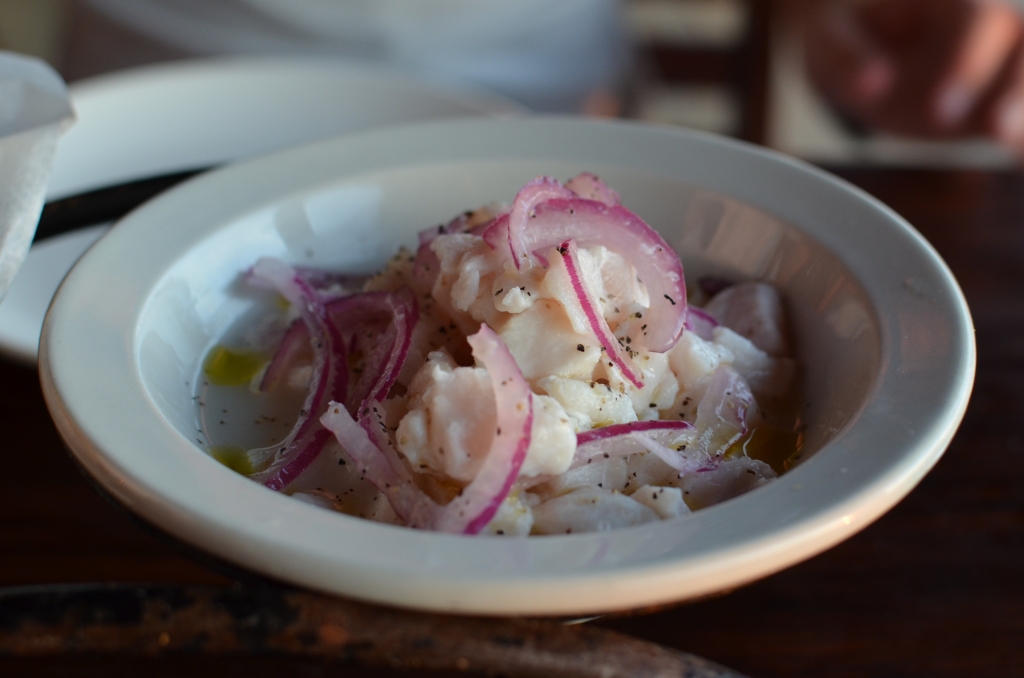 Eat!  
While I don't consider SJDS a particularly culinary city, there's no shortage of good food. Restaurant staples include seafood, ceviche and tropical cocktails.  If you want fish tacos, try Dorado's on the beach.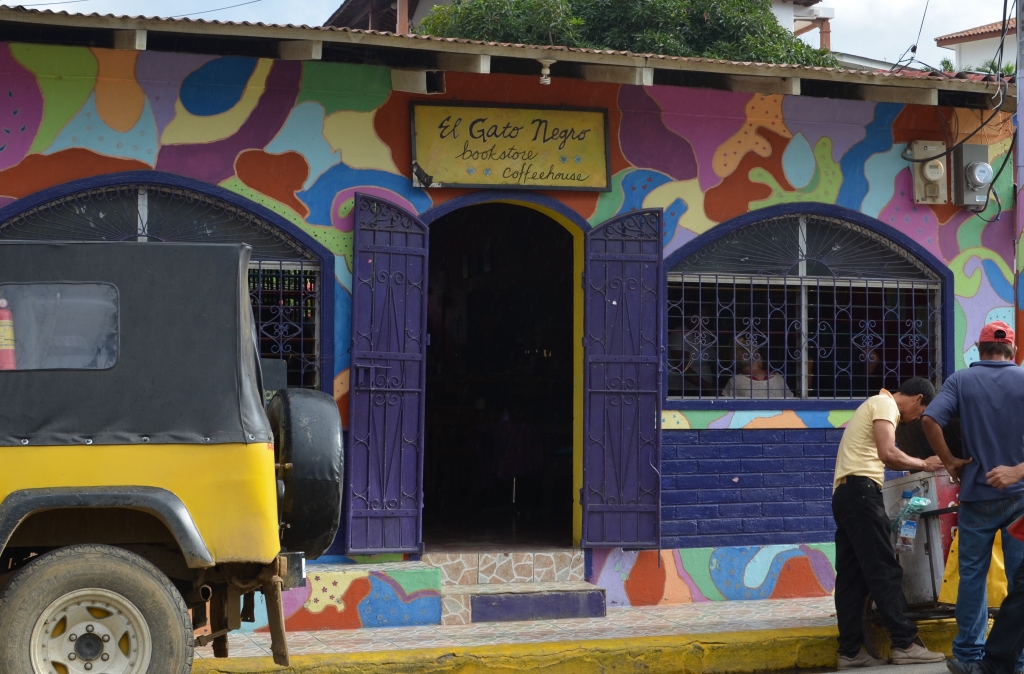 Relax with coffee and a book at El Gato Negro.
El Gato Negro was opened by Rob, an American expat, almost a decade ago, and has since become a San Juan del Sur institution.  It's open early for organic coffee and breakfast, so it's the perfect way to start the day before heading out to surf (it also happens to be located down he street from Good Times Surf Shop, so it's easy to pop in on the way).  In addition to tables and a bar, there are cozy sofas and nooks for you to relax.  The walls are covered with bookshelves selling an eclectic selection of books modeled after The Strand bookstore in Rob's home city of New York.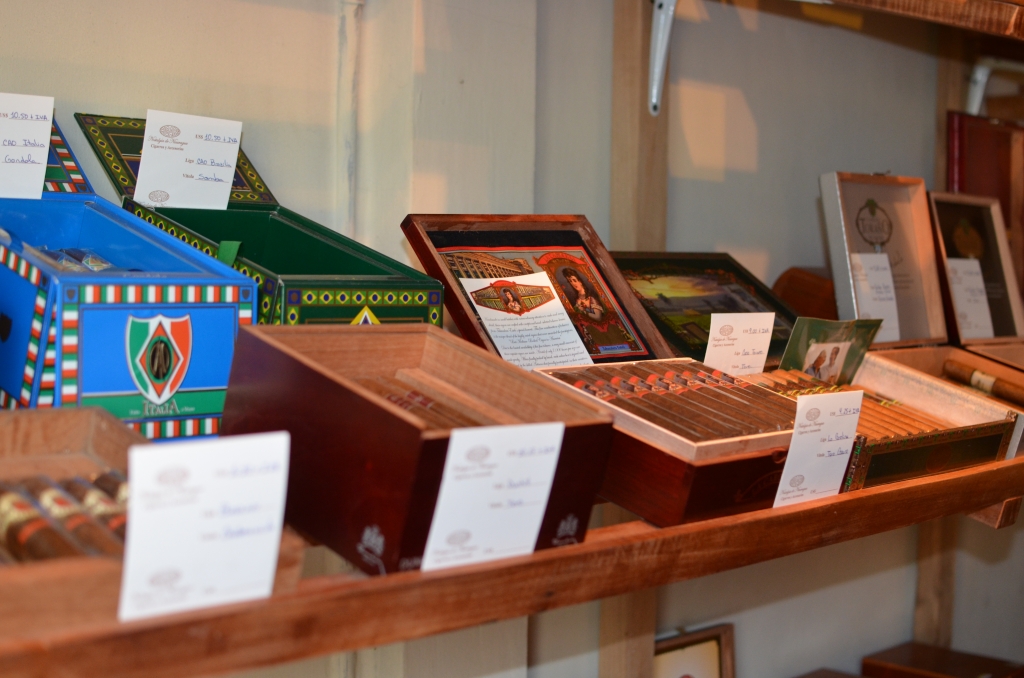 Smoke a Nicaraguan cigar.
Produced in the Esteli region of the country, Nicaraguan cigars are known for their full body and high quality, rivaling even Cuban cigars. If you continue up the road from El Gato Negro in the center of town, you will pass a small cigar shop selling all sorts of Nicaraguan cigars ranging in price from $3.95 USD and up.
Other things to keep in mind if you find yourself in San Juan del Sur:
I found San Juan del Sur to be a relatively safe place, though I have heard of people getting robbed.  Make sure to pay attention to your surroundings, as you would in any other area of the world.
Most places accept USD but will give you change in cordoba.  I found that I spent less and that it was easier to keep track of my money when I converted to cordoba instead of paying with USD.
You can find accomodation close to Playa Maderas and right on the beach at Playa Hermosa, so this may be of interest to you if you surf.  However, I think it's easier to stay in SJDS.  It's a great jumping off point for northern and southern beaches, and you'll be close to the action when you want to go out at night.
Hotel Alcazar is clean and right on the beach.  If you're looking for someplace slightly more upscale, you should consider staying here.  There are no safes or refrigerators in the rooms, though we felt our belongings were safe and experienced no issues.
If you are interested in budget accomodation, there are several inexpsneive hostels.  I've heard great things about the Naked Tiger Hostel.
Like what you see? Don't forget to like City Gal on Facebook, follow City Gal on Twitter, and sign up for City Gal's mailing list for exclusive news and updates!