City Gal is sending you to the new rock comedy, F#%king Up Everything, opening this month at the Elektra Theatre in Times Square!
F#%king Up Everything is a rock comedy with bongs, thongs and indie rock songs.  Set in today's Brooklyn indie music scene, it is an old-fashioned boy-meets-girl love story for the 21st Century.  When these hipsters aren't true to who they are, they screw up everything — especially love.  F#%king Up Everything is a fast-paced, entertaining new musical full of quirky likable characters, pop icon puppets, guitar-driven indie rock tunes and loads of laughs.
Previews begin March 15 and the show officially opens March 27.  The winner will receive a voucher for 2 tickets valued at $98.  You'll be able to choose a first and second choice date through April 27.
Eligibility
To be eligible to win these tickets, you must:
1. Subscribe to City Gal!  You can subscribe through the box on the right, or through this link!  Don't forget to check for the confirmation email in your inbox to confirm your subscription!
2. Like City Gal on Facebook!
The contest will run for two weeks, and the winner will be announced via Facebook and Twitter on Friday, March 22.  We'll also contact the winner directly.  While not required, comments on this post will be taken into consideration!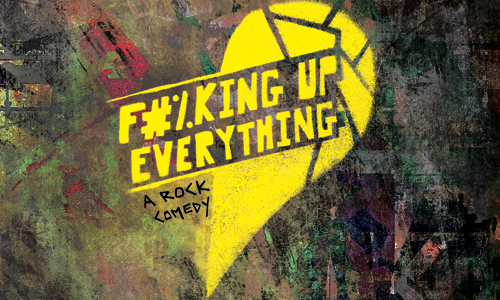 Want to learn more?  Check out F#%king Up Everything on Facebook.  Good luck!
Like what you see? Don't forget to like City Gal on Facebook and follow City Gal on Twitter!  Also, don't forget to sign up for email updates to get the latest articles delivered direct to your inbox!