While City Gal officially supports the New England Patriots (sorry, New Yorkers!), we polled our friends and readers for the best Ravens and 49ers bars in the city.  If you're from Baltimore or San Francisco, or you just want to feel like you have a dog in the fight, head to one of these bars for a Harbowl party you won't soon forget!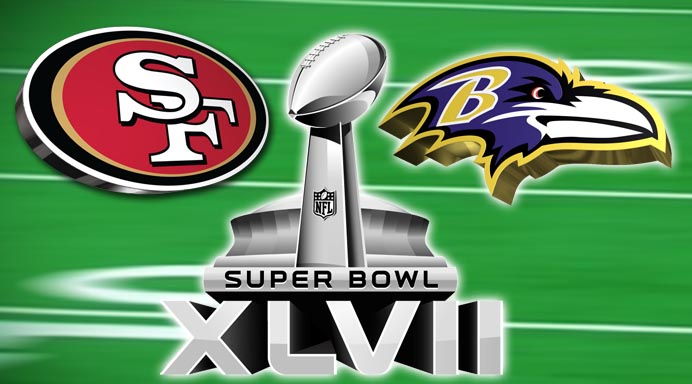 BALTIMORE RAVENS
Wharf Bar, 587 3rd Avenue (between 38th and 39th, Manhattan).  Wharf Bar is the most well-known Ravens bar and a great spot to watch Sunday football.  Bonus if you're into Murray Hill-dwellers and frat boys.
SideBAR, 118 E 15th Street (at Irving Place, Manhattan).  SideBAR hosts both the Ravens games and the Ravens Fans in NYC Meetup – it's legit.
The Horse Box, 218 Avenue A (at 14th, Manhattan).  The Horse Box is a fun neighborhood bar attracting an array of purple-rocking New Yorkers every Sunday.
SAN FRANCISCO 49ERS
Finnerty's, 221 2nd Avenue (between 13th & 14th, Manhattan).  Finnerty's is the official New York bar of the San Francisco 49ers.  There's a line around the corner every Sunday and the bar is filled with dedicated fans.
Professor Thom's, 219 2nd Avenue (between 13th & 14th, Manhattan).  Professor Thom's is the Patriots bar that sits adjacent to Finnerty's and often accomodates its spillover.  Now that the Patriots are out of the playoffs, the bar is likely to be filled with 49ers fans cast away from the 49ers bar next door.
Pacific Standard Brooklyn, 42 4th Avenue (between Bergen and St. Mark's, Brooklyn).  Pacific Standard is a Brooklyn beer bar attracting Californians from all over the city.  If you're a 49ers fan, you'll be in good company.
Where will you be watching Harbowl?
Like what you see? Don't forget to like City Gal on Facebook and follow City Gal on Twitter!  Also, don't forget to sign up for email updates to get the latest articles delivered direct to your inbox!